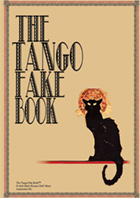 The Tango Fake Book™© is a book of sheet music containing over one hundred pieces: tangos, milongas, vals, tango nuevo, and tango canción. Each has lead melody line, often popular counter-melodies and variations, and chord symbols above the staff. Composer and date of composition (if available) too; all are in the most common original keys.

The Tango Fake Book is available in both 2/4 and 4/4 versions.

A very broad spectrum of composers and styles are represented. The pieces include selections from among the very first tangos, from before 1900; Guardia vieja tunes; Golden Age tangos; and modern and recent compositions.
See below for a complete list of tunes.

This book of sheet music is meant for a la parrilla playing (improvised arrangements); the charts are intentionally clear and simple. All are intended to be quickly readable in a live situation.
And every effort has been made to make these partituras as accurate as possible, so they are also good for study, and for a basis for an original arrangement.
The sheets are A4 size, and are in alphabetical order (excluding articles 'el' and 'la').

Also available: complete transcriptions of orquesta and quinteto tango music. Please write for a list. See also the Transcriptions page.

And look for the Vocal Tango Fake Book soon!


---

TO ORDER:
e: fakebook [at] delfmusic [dot] eu
Tel: +31 (0)6 291 88 450
(Amsterdam NL)


---

SAMPLES:

Click on a song title below for a sample tango from The Tango Fake Book™©, in downloadable and printable form.

These two samples change periodically.

To open these PDF files, you must have PDF software installed, such as Adobe Reader.



---


COMPLETE LISTING OF ALL TUNES:



9 de julio (tango)
9 puntos (tango)
A la gran muñeca (tango)
A media luz (tango)
Adios juventud (vals)
Afiches (tango canción)
Alguien le dice al tango
Alma en pena (tango)
El amanecer (tango)
Amigazo (tango)
Azabache (milonga)
Bahía blanca (tango)
Bajo en cielo de estrellas (vals)
Balada para un loco
Boedo (tango)
Buen amigo (tango)
Buen compleaños (birthday tango)
La cachila (tango)
Cafetín de Buenos Aires (tango canción)
Cambalache (tango)
Caminito (tango)
Campo afuera (milonga)
Canaro en Paris (tango)
Cara sucia (tango)
Caserón de tejas (vals)
Che bandoneón (tango)
El chino pantaleón (milonga)
Chiqué (tango)
Chiquilín de bachín
El choclo (tango)
El ciruja (tango)
Comme il faut (tango)
Corazón de oro (vals)
La cumparsita (tango) - with variación
Danzarín (tango)
De pura cepa (milonga)
Derecho viejo (tango)
Desde el alma (vals)
El día que me quieras (tango canción)
Don Juan (tango)
En este tarde gris (tango)
Ensueños (tango)
El entrerriano (tango)
Felícia (tango)
El firulete (milonga)
Flor de lino (vals)
Flores de alma (vals)
Gallo ciego (tango)
Garufa (tango)
Gota de llúvia (vals)
Hotel Victoria (tango)
La huella (milonga)
Illusión de mi vida (vals)
Inspiración (tango)
Jacinto Chiclana
Julián (tango)

Lagrimas y sonrisas (vals)
Loca (tango)
La loca de amor (vals)
El llorón (milonga)
Luna de arrabal (vals)
Mala junta (tango)
Mala pinta (tango)
Malena (tango canción)
Los mareados (tango)
Mentías (vals)
Mi Buenos Aires querido (tango canción)
Milonga de mis amores (milonga)
Milonga del 900 (milonga)
Milonga sentimental (milonga)
Milonga vieja milonga (milonga)
Milongueando en el 40 (tango)
Milonguero viejo (tango)
Nada (tango canción)
Naranjo en flor (tango)
Nocturna (milonga)
Nostalgias (tango canción)
Oblivión (Piazzolla milonga)
Ojos negros (tango)
El once (tango)
Organito de la tarde (tango)
Pablo (tango)
Palomita blanca (vals)
Papas calientes (tango)
Pedacito de cielo (vals)
Pena mulata (milonga)
El pollo Ricardo (tango)
Por una cabeza (tango canción)
La puñalada (milonga)
Quejas de bandoneón (tango)
Recuerdo (tango)
Recuerdos de Paris (tango)
Re fa si (tango)
Reliquias porteñas (milonga)
Rodriguez peña (tango)
Romance de barrio (vals)
Si soy así (tango)
Silueta porteña (milonga)
Sur (tango canción)
Tabaco (tango)
Taquito militár (milonga)
Toda mi vida (tango)
La torcacita (tango)
El torito (milonga)
La trampera (milonga)
Trenzas (tango)
El último café (tango canción)
Uno (tango canción)
Volver (tango)
Yira yira (tango)